Inside Sales Management System Funnel Navigator Operation Support Service Dynamically Covering Full Spectrum of Inside Sales
Continuous and comprehensive management covering
all stages of sales approach.
Support for all Inside Sales-related businesses.

A brand-new cloud system which enables users
to appropriately create, manage and handle status of a funnel.
Inside Sales consist of activities utilizing a non-face-to-face approach by means of telephone, Web, E-mail and the like, which are meant to secure a sufficient volume of opportunities (funnel) and improve their quality toward achieving sales goals.
We have developed Funnel Navigator as an 'operation support system' for Inside Sales. Its coverage of functions differs from 'SFA' or 'CRM' which manage sales activities from the conclusion of negotiations. Basically, in 'SFA' and 'CRM' users can follow the progress of 'deals' whose products (services) and their estimated budgets are determined, as well as key persons to propose. However, as the 'seeds' of opportunities involving potential customers are not being managed, they end up buried in each Sales representative, and thus such situations and prospects information are not shared at all.
How can we nurture opportunities, that is to say the 'bud' for sales, and connect them to closing deals?
In response to this issue, Funnel Navigator divides the target scope from 'finding potential customers' through 'conclusion of negotiations' into various processes, and makes visible the state of progress, challenges and issues of each process, so that it will offer support to improve sales activities.
We manage the funnel from various established sections and topics, which cover past activities all the way to the current status of action plans. This way we are able to actively support the appropriate funnel formation, response and improvement.
With Funnel Navigator, a brand-new cloud system, the users can accumulate Inside Sales knowledge in their own company with continuous PDCA management cycle. The reason is because Funnel Navigator will function constantly in order to achieve business goals (sales), against any newly-started sales activity, including up-selling and cross-selling after proposal and order.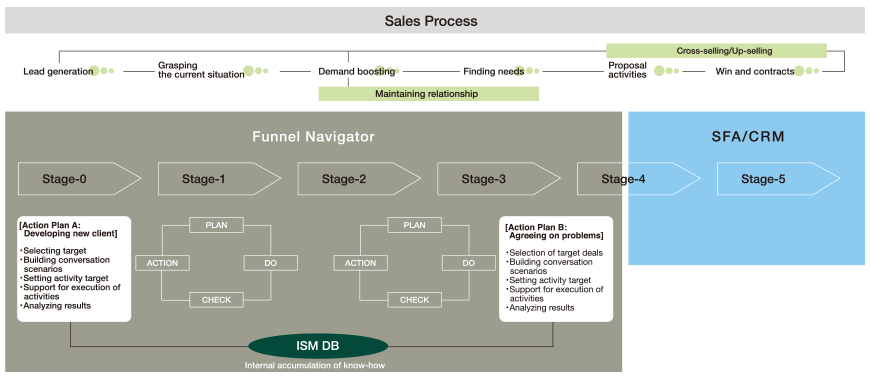 We cope with business environment changes through a seamless cooperation between job roles.
We provide all the functions put together.
In order to maximize efficiency of Inside Sales results, it is crucial that the whole representatives involved in an activity grasps the current situation in real-time. Customer status and market dynamism change constantly. Agility to cope with such changes is vital to effective plan formulation and execution which guide to accurate results (sales).
In Funnel Navigator, we assume three job roles: 'Top Management', 'Manager' and 'Inside Sales representative'. In order to form a seamless cooperation between job roles while supporting each operation within the series of Inside Sales activities, it is composed basically of four main functions.
1) Guideline through the steps needed to adequately implement Inside Sales model (Installation support guide function (initial setup))
2) Strong support for formulation of accurate action plans to achieve sales targets (action plan designing support function)
3) Support to Inside Sales responsible to generate and nurture leads (Call activity support function)
4) Visually easy-to-understand description of results and progress (Capture current status & analysis support function)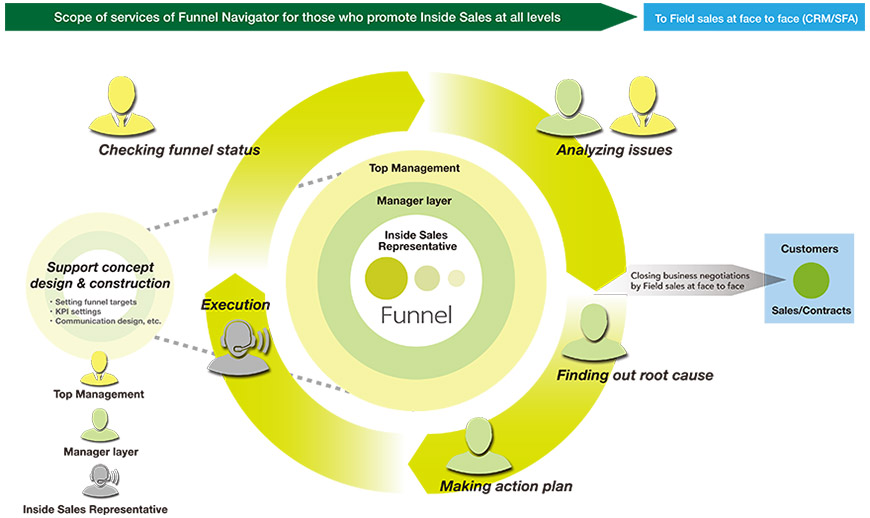 All essences you need fitted on a performance basis.
With an advance security operating system.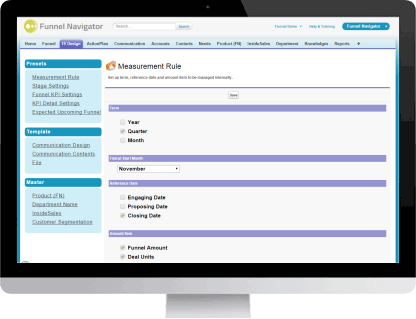 BRIDGE was established in 2002 and ever since it has been providing a comprehensive specialized service to BtoB companies, which included introduction of Inside Sales Management (ISM), plan proposal all the way to offering resources, setting up of Inside Sales support system, etc. This Funnel Navigator includes all the essence necessary, based on performance of Inside Sales we have promoted to more than 100 customers.
In regards to the basic operations, since it incorporates guide functions navigating the whole system, this Funnel Navigator has been adapted to an interface that allows understanding of Inside Sales flow while using the cloud system. It also enables companies to learn technical know-how for Inside Sales just like using SNS, and accumulate it as in-house knowledge.
Also, this Funnel Navigator uses an established platform which is widely known in worldwide business scene, and provides a safe security environment.
Additionally, our company applied the guidelines regarding the introduction and implementation of Inside Sales management as the PAS (Publicly Available Specification). Funnel Navigator is the world's first cloud service complying with the guide defined as PAS8401.
* PAS: Abbreviation for 'Publicly Available Specification'.It refers to the 'standard of being generally available for use to any individual.' Currently, there are many PAS standards fully aligned with ISO.

To Page Top

>